Summary

Dates: Jul. 21 to Jul. 23, 2014
Day 1: Lincoln Gap to Birch Glen (16 miles) – 7 people start excited and full of hope
Day 2: Birch Glen to Montclair Glen (8 miles) – 5 people remain with doubts of the parties abilities creeping in
Day 3: Montclair Glen to Duxbury Road (8 miles) – 3 people trudge onward until they can take no more
Gear
Too long ago to remember correctly, but way way too much. We were very unprepared for what lay ahead of us
Trip Report
It has been a few years since this trip on the Long Trail tested our bodies and minds, but one I think back on often. It was the summer of 2014, the summer before my Senior year of college, and what felt like the final summer to live free from any real responsibility. I was living in a 13 bedroom duplex with a conglomerate of my best friends, and life was good. However, things were beginning to change. Senior year was fast approaching, and friends who had graduated were starting to move on to different places. Three friends in particular, Nevan, Tim, and Scott were heading west at summers end; Manifest Destiny their creed, Bellingham, Washington their destination, one way tickets to ride. Those three had been close friends of mine since my Freshman year at UVM, when they were paired up with my best bud Max and his roommate Lew in the now infamous 3rd floor McCann Suite. So as this final summer came and went as summers do, and their departure was fast approaching, an idea for a trip developed. It was decided that we all needed one last tromp through the Vermont wilderness together before splitting ways. We needed to experience the beauty of the state that had been so good to us for 4 years, and so we decided to set out on a 4 day trek on the Long Trail. In the weeks leading up to the hike we tried to gain some leg strength while summiting Mount Mansfield and Smugglers Notch, and in hindsight, it was pretty terrible preparation. All these hikes were under 8 miles and done with little to no weight on our backs, but before we could reevaluate our position, the day of reckoning was upon us.
The night before the trek began, we gathered our food (way too much), packed our bags (way too heavy), and talked about the plan (way too hopeful). At this point the party consisted of myself, Max, Nevan, Tim, Scott, and Lew; The most upstanding group of hikers I've had the privilege to walk with. We were in varying degrees of shape, with even more varying degrees of hiking experience, ranging from none…to slightly more than none. The night before the trip we upped the group to seven when Owen, after learning of the plan and always being up for an adventure, made a quick last minute decision and decided to come along. So now the party was set and the plan was simple. We had a crew of seven, planning on hiking 52 miles over the course of four days, over four of the five tallest peaks in the state with too much weight on our backs and days worth of backpacking experience shared between us. What could possibly go wrong?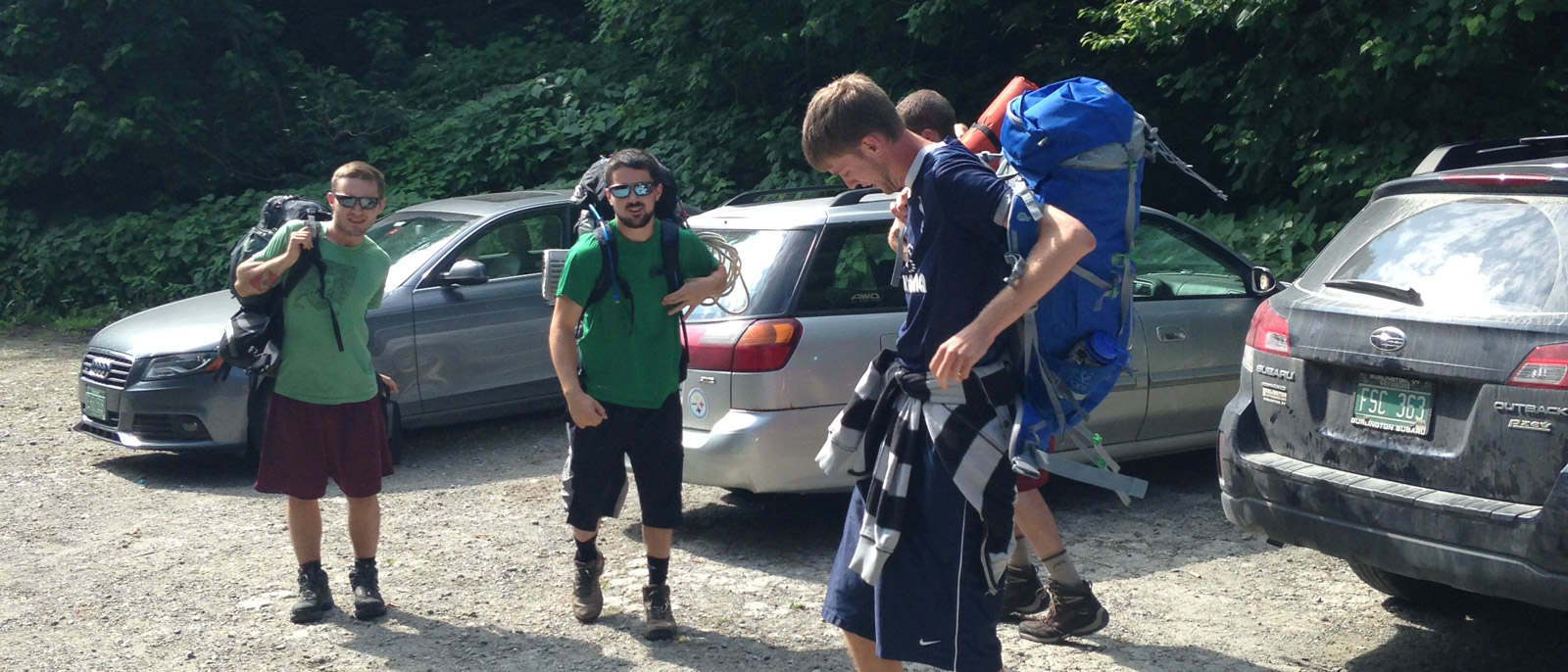 Day 1
We awoke early, grabbed sandwiches from Henry Street Deli, threw our gear into four cars and set off, excited for the adventure to come. After dropping two of the cars off at the hikes terminus at Underhill State Park, we proceeded on to the hikes start at Lincoln Gap. After arriving at the parking area, unpacking the cars, and doing some quick stretching, we began the hike up the first of many mountains ahead. From Lincoln Gap, the Long Trail sends you up 2200 feet over the course of 2.5 miles to the peak of Mt. Abraham at 4,006ft; One of five mountains in Vermont surpassing the 4,000ft mark. This section of the hike went smoothly for most, but by the time the main party reached Mt. Abes summit and sat down to eat some snacks, it was already down to 5.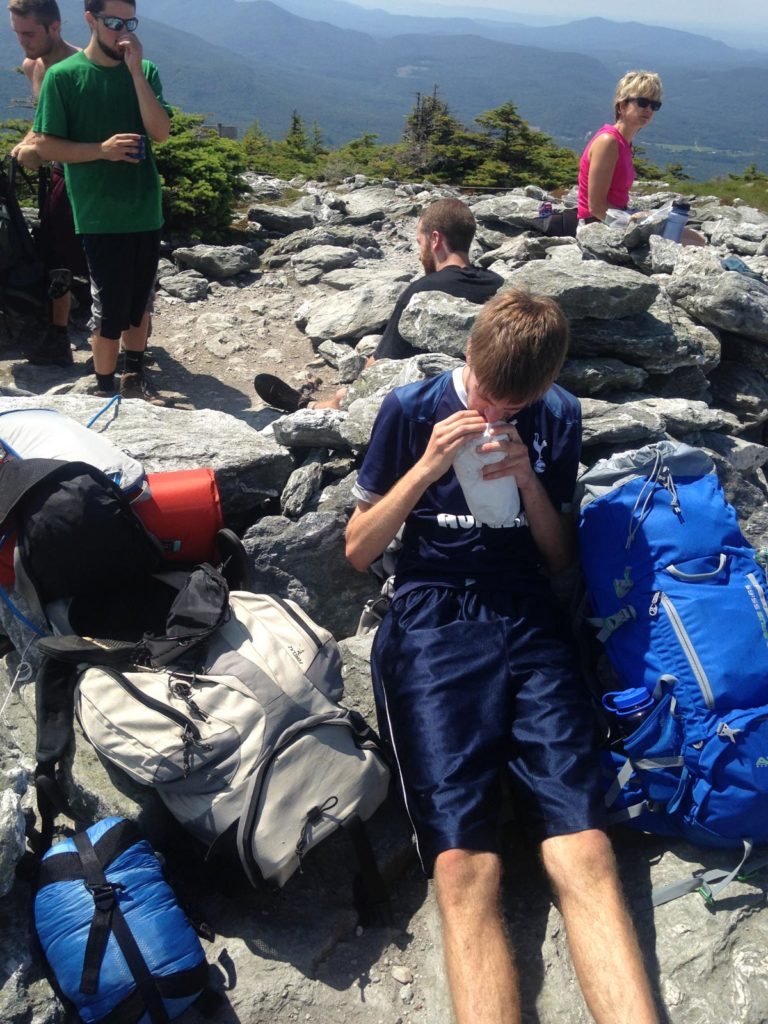 Lew and Max had been out of sight since about half way up Mt. Abe when Lew had started struggling with an under performing and over packed backpack that lacked a hip strap. With the full weight of the pack concentrated on his shoulders he was having a hard time keeping up. Max had noticed his discomfort and drifted back, keeping his pace as they made their ascent. About 30 minutes after the rest of us had made the summit, the two of them rejoined the group. However, one look at Lew's face was all it took to know that he would be going no further; He made the decision to call it quits. 2.5 miles into a 52 mile hike and he knew the mountains had won. The harsh reality set in that he could not make it the 14 more miles we had planned for the day. While taking it easy, breaking our legs in may have been smart, we chose to think of ourselves as cardio capable, well driven athletes who could crush 16 miles in a full day with ease. I mean how hard could it be?
After taking in the views, we parted ways with Lew and continued on. Lew managed to hitch hike closer to Burlington with a couple we had passed on the hike up, and then grabbed a taxi home to await the triumphant return of the rest of the party, although he would be getting company far faster than he could expect.
The rest of us trekked onward over Mt. Ellen, Vermont's third highest peak, down over General Stark Mountain and into the Appalachian Gap. This section was filled with breathtaking views of the Green Mountains and consisted of generally easy hiking along a ridge line, followed by a descent into the App Gap. However, at some point during this stretch, though I can't pinpoint exactly where, Max managed to take one bad step and roll his ankle. At first glance, this seemed a minor issue, but by the time we had reached the Appalachian Gap, he was limping and his ankle was beginning to swell up inside his boot.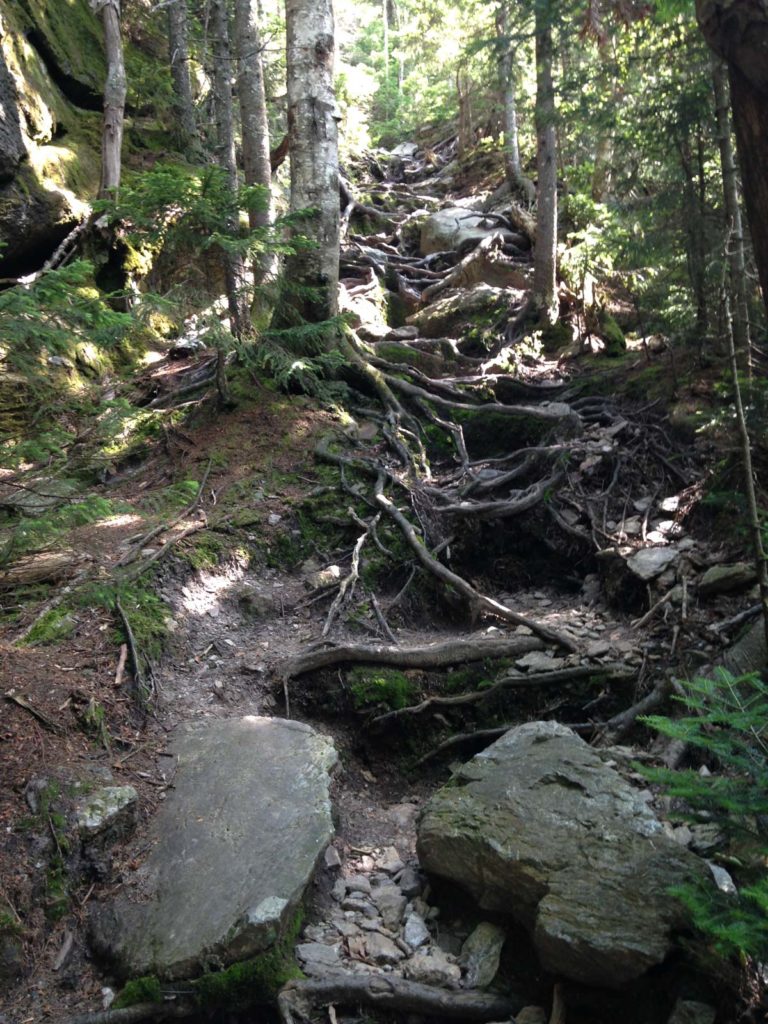 We were only about 3 miles from the shelter, but to get there we had cross over Molly Stark Mountain on a staircase of roots and rocks that was both physical and mental torture for our already beaten bodies. But from the summit of Molly Stark it appeared to be a straight shot downhill to our shelter for the night, and to he end of a very long day on the trail. Rest finally seemed to be within reach.
However, during the climb up Molly Stark, Max's pace began to slow substantially from that of the group. Rather than slow the whole group down, I hung back with him while the others trudged ahead to make it to the Birch Glen Shelter before dusk, as it was beginning to get late. As it turned out Molly Stark Mountain proved to be a real bitch, and took nearly double the time we had estimated it would take to cross. So by the time Max and I came hobbling into camp we had been walking in the darkness for over an hour. Too tired to eat, talk, or really do anything, we crawled into the only empty spaces we could find on the shelter floor and were quickly taken by sleep.
Day 2
In our rush to lay down and sleep, certain things were overlooked at night that weren't realized until the morning light. We had originally intended to have a campfire dinner the first night after cruising into camp well before sunset, and had brought sausages and other perishables along for that purpose, but things didn't quite go as planned, and the sausages and other perishables were wasted. Also, in the darkness of the shelter we had thrown our packs in the corner, rather than hang them safely away from the forest critters. In the end, a few bags of granola turned into critter feed, but thankfully nothing too important was lost.
After emerging from the shelter, feeling mildly rested, I couldn't help but feel optimistic about the day ahead, but the same could not have been said for Max. His ankle pain had not subsided overnight as we had hoped, but instead had gotten worse; Once his ankle was removed from his boot it swelled like a balloon. He limped around the campsite barefoot as we ate breakfast that morning and made the decision to call it quits. On the map we discovered that there was a 2 mile trail leading away from the Long Trail and out to a road where he could find his way back to civilization. His plan was to make it to the road, flag down a car and hitchhike back to his car at Lincoln Gap. It seemed a solid enough plan, so we said goodbyes, and off he went.
His path home was not as straightforward as he had hoped. After limping the 2 miles to the road, he proceeded to walk/limp for another 8 miles after ditching his pack by the side of the road in some bushes, before finally being picked up. As it turned out, the man who ended up picking him up was one of the first people he saw when he started his trek. Earlier on, he had passed by a man painting his house and the man wished him luck, only to find Max still hiking hours later when he got in his truck to grab more paint. He dropped Max at his car at Lincoln Gap, where Max drove to fetch his hidden supplies and finally headed for home. And for the icing on the cake, while walking around the site barefoot all morning he had managed to pick up poison ivy on his already swollen foot. When I finally saw his foot upon returning it was red and swollen and the webbing of his toes looked like platypus flippers.

As for the five of us who went on, the first few miles were uneventful in the best way possible. Then at about mile 3, while jumping off a small ledge Owen managed to tweak his knee. He noted the discomfort, but continued on. However within a mile we were wrapping it up, and a mile after that he knew he could  not continue. It wasn't an injury that was going to stop him in his tracks, but it was going to make a continued hike painful, so he too began to look for ways out of the wilderness. The map showed us that before the climb up Burnt Rock Mountain there was a 2 mile side trail that shot out to a parking area for day hikers. He saw this opportunity for freedom and took it. We waved him goodbye, and now just about 24 hours into the hike, our group of intrepid explorers was down to 4. Owen eventually ended up hitching a ride back to Burlington through some means or another, and now waited to see what the the rest of our fates would be.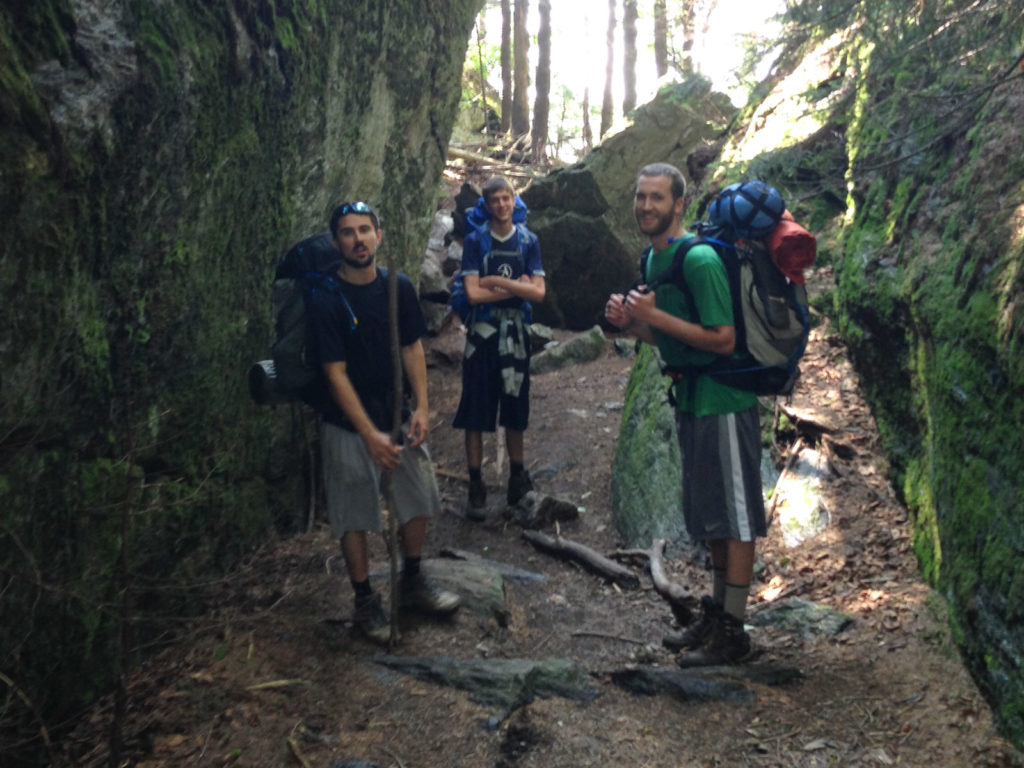 There was no direction to go but forward, so the remaining four went on. In the original plan, day two called for 14 miles of hiking ending at the Bamforth Ridge Shelter on the far side of Camel's Hump, but by this point we had realized the realities of weighted distance hiking on the unforgiving terrain of the Long Trail and decided to alter course. We instead set our sights on the Montclair Glen Shelter, making it a manageable 9 mile total for the day. The next two peaks we crossed, Burnt Rock Mountain and Mount Ethan Allen, were spectacular and possibly my favorites of the trek. No doubt in part because we actually had time to sit and enjoy them. After the onslaught marathon hike that was day one, day two was feeling like a breeze. But it was in hiking Mount Ethan Allen and its subsequent descent that a few bodies started to betray us. On the uphill stretches Nevan's legs were seizing up, making him feel powerless to the coming miles ahead. While on the descents the string bean body of Scott was not taking kindly to walking downhill, sending pain shooting through his legs with every step.
When we left the summit of Mount Ethan Allen and began the descent down to camp Scott's pace began to slow rapidly, and so we trekked on ahead of him. He arrived nearly an hour after us, and had made the decision during that time, that come morning he was going to skip the trek over Camel's Hump and head out on another side trail; Our party of seven had now managed to dwindle to three. That afternoon we had a great time at camp, eating food, telling stories and relaxing while we still had some light to kill. When night came we fell asleep easily with our packs properly stowed, having learned a little about life on the trail.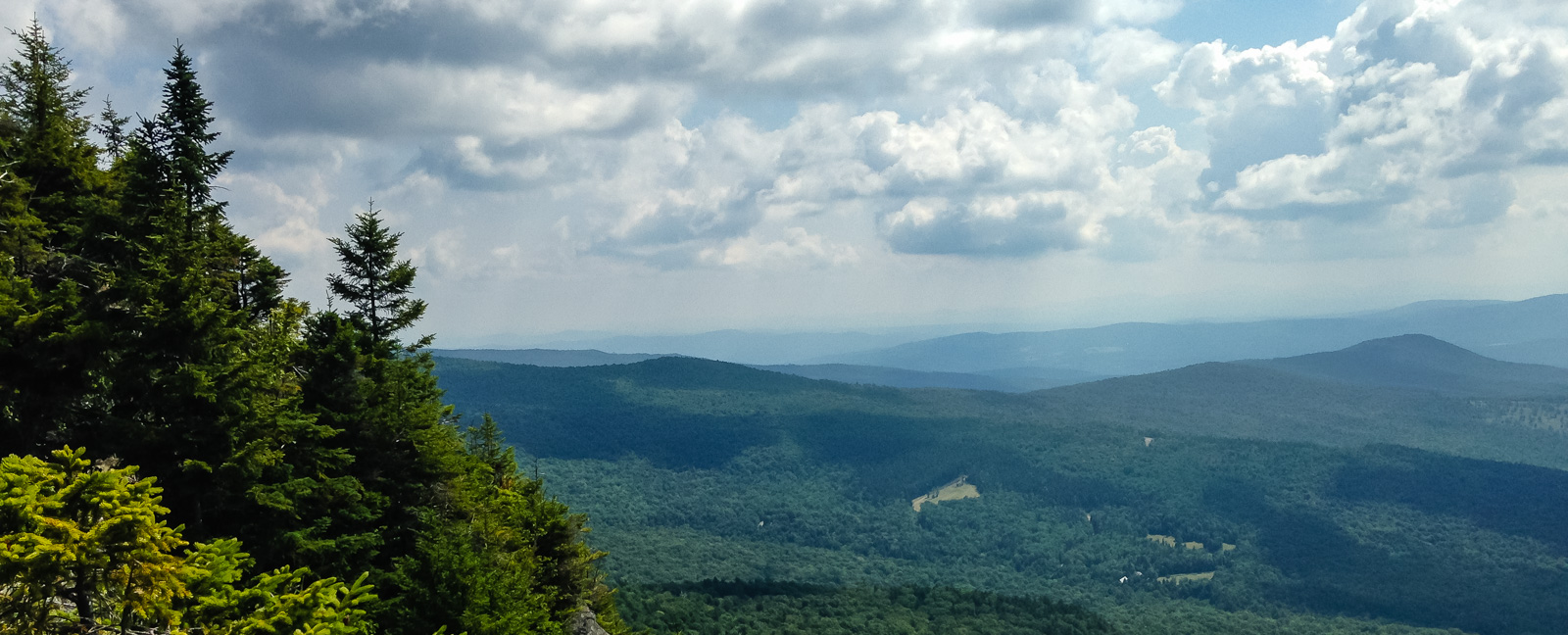 Day 3
We woke, ate some breakfast, said our fair wells to Scott, and began our trek up Camel's Hump. It was a rocky unforgiving scramble of a climb, rising 1300 ft in under 2 miles, but we were ready. After fairly easy hiking the day before, a good nights rest, and a smaller party, we had high hopes for day three. Survival of the fittest had left us on the trail, and for all the issues encountered thus far, we thought it was time for the tides to turn in our favor. We were wrong. About a half mile into the climb Nevan's rebelling legs picked up right where they left off the day before. And for the cherry on top, he proceeded to find a nice patch off the side of the trail and upchuck the contents of his stomach. He was a trooper though, and quickly recovered from the incident and we continued our ascent.
About an hour later we summited Camel's Hump, Vermont's 4th highest peak, and took in the underwhelming views from inside a cloud. Disappointed by the sights, all that we could do was forge ahead, and this is where Nevan made the decision to join our fallen comrades and throw in the towel. From the summit of Camel's Hump down to Duxbury road, the lowest point on the Long Trail at only 325 ft, is a 7 mile downhill stretch dropping over 3500 ft. His plan was to make it down that stretch to Duxbury Road and get picked up there. Now me and Tim were faced with the question of whether to continue trekking ahead on this increasingly dubious trip, or call it quits with Nevan.
We decided to hike down the mountain at a quicker pace than Nevan and see how we felt once reaching a watering hole to refill our water bottles. There were still lots of miles to cover that day, and if we were going to complete the hike the only way to not kill tons of time was to wait where we could restock. A hiker we met the day before had told us of an awesome watering hole about a mile from Duxbury Road where we could swim and refill our bottles, so Tim and I trudged forward ahead of Nevan with a plan to regroup there.
We made it there fairly quickly and were able to resupply our water and swim in the mountain stream while awaiting Nevan's arrival. Once Nevan showed up we swam some more, dubbed the watering hole Squeaky Chicken Bay, and enjoyed lounging around in the cool water before suiting up and making the final push down to Duxbury Road where our phones had service, meaning we were able to check the weather. The weather report showed us that the possibility of rain we had seen in the day's forecast had turned into an absolute. The thought of continuing on through rain with still 6 more miles to travel for the day, and another 14 to do the following day to complete our task seemed insurmountable. We had a discussion on the pros and cons of continuing, but in the end decided against forging on. I still sort of regret not giving it a try, but as broken and beaten as we were, we simply laid in the grass by the side of the road and admitted defeat. Mile 32 would be our last, not a bad number for 3 days on the trail.
As luck would have it, within minutes of getting picked up by Scott, who had come to our rescue, the skies opened up and began to drench the car in rain. I can't think of a time I've ever been happier to be siting in a closed shelter. We all made it home safely, swapped hitchhiking stories and tales from the trail before laying back to rest after an eventful few days in the woods, having learned a lot about hiking in the process.
I've been on a few backpacking treks since, but none have quite matched up to the experience that was the three days on the Long Trail with some of the best kids I've ever known. It was something I won't soon forget and one of my fondest memories of my time in Vermont. It captured not only the stunning landscape that is Vermont, but the people who I got to share my time there with. As I continue forward in this thing called life, now stationed in Oregon, I think back to those three days often. Not only for what they taught me about backpacking, but for what they taught me about myself. Before that trip, I wasn't the adventurer I'd always wanted to be. It opened doors to new experiences that I've since set out on. When you go through something like that you fully understand that most experiences aren't about the final destination, but about the journey and the people you are lucky enough to share that journey with. Happy Exploring!